Since summer is here everyone wants to be outside, so why not take the cooking there as well. Lets face it the best part
of grilling is there are so many different recipes to be tried. So whether you cook with charcoal, or gas grill, or even both, once it's hot you are ready to go. of course then you sit and ponder the thought of what to try, meat poultry or fish, better yet what veggie like corn, eggplant and tomatoes.
I find the simplest way to grill the freshest ingredients is
really with some olive oil fresh ground pepper, and a sprinkling of kosher salt, that will turn yellow squash, zucchini and eggplant into something special, drizzle with some balsamic vinegar ( or if you can find balsamic glaze) and you are good to go.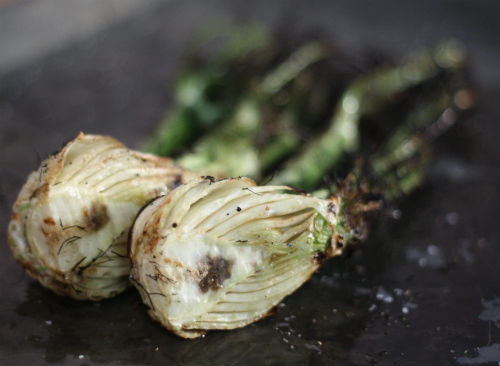 A very simple grilled side dish/salad. Just brush thick slices or wedges of fennel bulbs with olive oil, sprinkle with a little salt and pepper, the grill over not-too-high heat. Place cut wedges on grill each cut-side. Place fennel on a bed
of arugula, squeeze grilled oranges over top, reserve a wedge or 2 for garnish with fennel fronds.
Grilled spice rubbed carrots. This is very simple if you can find true baby carrots, or just use small or mini ones. Peel the carrots if you need to, then roll them in a mixture of cumin, salt,
pepper and brown sugar. Char, then move them away from direct heat and cover the grill until carrots are tender.
Grilled tomatoes. You simply need any size of a nice ripe tomato. Drizzle with
olive oil, sprinkle with salt and pepper, grill until charred then serve with fresh mozzarella,some torn fresh basil and grilled bread.
How is this one? Grilled guacamole, another very simple recipe. Simply halve and pit avocados, brush with olive oil lightly, give them a light char
them, scoop out the flesh. Brush some thick red onion slices with olive oil,give another light char and then chop. In a bowl combine, add tomatoes, lime, garlic and spices if you like. Yum!
Grilled Swordfish with Heirloom Tomatoes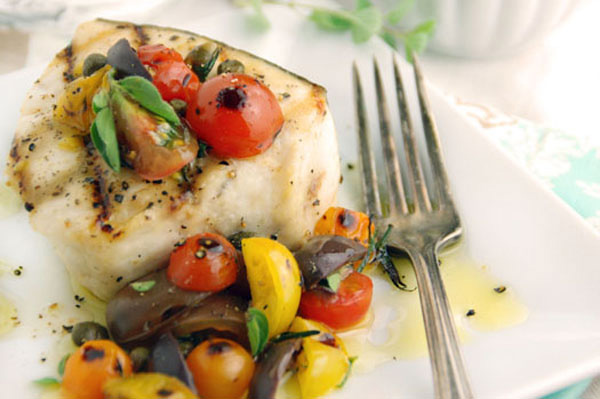 4- 4-oz swordfish steaks
1/4 cup olive oil, plus more for drizzling
1 garlic clove, minced
2 cups halved cherry or grape heirloom tomatoes(if you can't find heirloom, any mix of cherry or grape tomato can be substituted)
1/4 cup fresh whole oregano leaves
kosher salt and freshly cracked black pepper
Preheat grill pan to medium-high heat; brush olive oil on grates. Using paper towels pat each swordfish steak dry; drizzle each side with olive oil, set aside. In a large bowl combine 1/4 cup of the olive oil, garlic and tomatoes; toss to coat.

Season each side of swordfish with salt and pepper. Place swordfish steaks on grill pan; cook 4 minutes each side, turning 1/4 turn half way through cooking to create cross hatch grill marks.

Meanwhile, place tomato mixture on another section of the grill pan; season with salt and pepper. Cook 3 to 4 minutes, or until lightly charred. Transfer cooked tomatoes to a clean bowl. Fold in oregano and season with salt and pepper to taste; set aside. Spoon tomato mixture over swordfish steaks and drizzle with olive oil; serve warm.
Simple Lemon Grilled Chicken
4 bone-in split chicken breasts
Juice of 5 medium lemons
1 cup olive oil, or more as needed
zest of 2 lemons
Kosher salt
4 garlic cloves, peeled and smashed
1 pinch cayenne pepper
In a large bowl combine the lemon juice, zest, salt, garlic and cayenne. Pour the olive oil in while whisking to emulsify the marinade. Whisk it very thoroughly until it becomes almost liquid. Pour the liquid into a large zip close bag. Add the chicken breasts, seal the bag well and swish the marinade all around the meat.

Store the chicken in the fridge until it you are ready to grill. It tastes best if allowed to marinate for at least 4 hours, but they can marinate for up to 24 hours in the fridge if you need to make it ahead of time.

Light the grill to medium flame, discard the marinade and grill the chicken until cooked through. Enjoy!
Flank Steak with Cilantro-Almond Pesto
3/4 cup fresh cilantro
2 Tbsp slivered almonds, toasted
1 Tbsp chopped seeded jalapeño pepper
1/8 tsp salt
1/8 tsp black pepper
1 garlic clove, chopped
3 Tbsp plain fat-free yogurt
1 1/2 tsp fresh lime juice
1 lb flank steak, trimmed
Cilantro sprigs (optional)
Combine first 6 ingredients in a blender; process until finely chopped (about 15 seconds). Add yogurt and juice; process until smooth.

Grill steak 6 minutes on each side or until desired degree of doneness. Cut steak diagonally across grain into thin slices. Serve steak with pesto. Garnish with cilantro sprigs, if desired.
Grilled Stuffed Portobello Mushrooms
2/3 cup chopped plum tomato
1/4 cup (1 ounce) shredded part-skim mozzarella cheese
1 tsp olive oil, divided
1/2 tsp finely chopped fresh or 1/8 tsp dried rosemary
1/8 tsp coarsely ground black pepper
1 garlic clove, crushed
4 (5-inch) portobello mushroom caps
2 Tbsp fresh lemon juice
2 tsp low-sodium soy sauce
Cooking spray
2 tsp minced fresh parsley
Combine the tomato, cheese, 1/2 teaspoon oil, rosemary, pepper, and garlic in a small bowl.

Remove brown gills from the undersides of mushroom caps using a spoon, and discard gills. Remove stems; discard.

Combine 1/2 teaspoon oil, juice, and soy sauce in a small bowl; brush over both sides of mushroom caps. Place the mushroom caps, stem sides down, on grill rack coated with cooking spray, and grill for 5 minutes on each side or until soft.

Spoon 1/4 cup tomato mixture into each mushroom cap. Cover and grill 3 minutes or until cheese is melted. Sprinkle with parsley.
Note: Grill the mushrooms stem sides down first, so that when they're turned they'll be in the right position to be filled. If you want to plan ahead, remove the gills and stems from the mushrooms and combine the filling, then cover and chill until ready to grill.
Grilled Teriyaki Shrimp Kebabs
Sauce:
1/4 cup low-sodium teriyaki sauce
1 Tbsp sesame seeds, toasted
Kebabs:
48 large peeled and deveined shrimp (approx 1-1/2 lbs)
32- 1-inch cubed pieces fresh pineapple
1 medium red onion, cut into 8 wedges
Cooking spray
Prepare sauce, combine teriyaki sauce and sesame seeds in a small bowl.

Prepare kebabs, thread 6 shrimp, 4 pineapple chunks, and 1 onion wedge alternately onto each of 8 (10-inch) skewers.

Brush kebabs with teriyaki mixture. Place kebabs on grill rack coated with cooking spray; grill 8 minutes or until shrimp are done, turning once.
I hope you find some inspiration here and get out there and start grilling. Try something a little different change it up from the ordinary and see what happens. Well until next time, have a great day enjoy life's little pleasures.